Discover more from 50 Years of Text Games
A deep dive into text game history, from The Oregon Trail to A.I. Dungeon, now in book form! Click "No thanks" below to skip the subscribe box; the top story has details on how to get your own copy.
Over 5,000 subscribers
I'm pleased to announce that the print-on-demand edition of 50 Years of Text Games is now available for sale, and should remain so indefinitely.
If you missed snagging a copy of the sold-out original print run, this is your chance to grab this acclaimed look into interactive fiction history in a physical edition.
A casebound hardcover (think high school textbook; pictured above) and softcover version are both available. They are the both same dimensions as the original crowdfunded print edition softcover (8" x 10") with near-identical interior content other than a few small corrections, containing all 640 pages of interactive fiction history goodness from the original printing.
Due to different paper stocks in the print-on-demand world, this edition is actually significantly thicker than the original print run, so you'll be able to impress your friends and colleagues and distress your coffee table even more.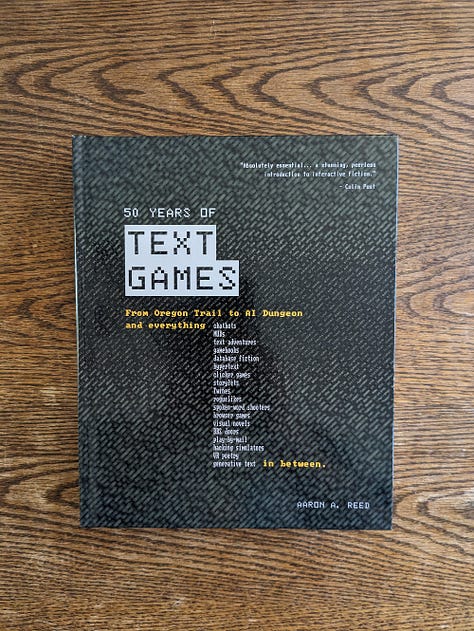 ---
The book is available today from DriveThruFiction.com, which uses print-on-demand giant Lightning Source to print their books. (If you're familiar with DriveThruRPG, one of the leading online publishers for tabletop roleplaying books, it's the same parent company and printer.)
I'm also able to offer the ebook version as a free add-on to the print version if you purchase it from DriveThru, which is a deal no longer available anywhere else.
---
The digital version also continues to be available on Itch.io. The download here also includes a plain text version in addition to PDF and EPUB if that's important to you. For libraries, the Itch site also has details on licensing for the ebook edition.
Speaking of libraries, if you're one of those (or a bookstore), the POD edition of the book is now also available via Ingram/Lightning Source through the usual bookseller channels. This is not a good option for end consumers, but if you are looking to order copies at industry standard discounts you should be able to find it now or in the next couple of days with the ISBNs listed below. (If you see copies of the book for sale at various other online stores, they are connecting to Ingram's catalogue and using their service to print.)
Casebound Hardcover - $79.95 retail [ISBN 9798985966107]

Softcover - $59.95 retail [ISBN 9798985966114]

---
Finally, the book will be available on Amazon shortly, but is not up quite yet due to some last-minute logistics nonsense. In my experience, Amazon's print-on-demand books are a bit lower quality than what DriveThru provides, but it will be a cheaper and quicker option for folks in many countries, especially for shipping. I'll post another update here once the Amazon version is live if you want to wait for that option. (Note the Amazon version will be the softcover only; they only support printing hardcovers up to 550 pages, which 50 Years sadly/happily exceeds.)
---
I'm so pleased to be able to offer this option to keep 50 Years of Text Games available in print for those who missed the original run. I hope you enjoy it! (And stay subscribed to the newsletter, there will be some more fun content coming before the end of the year, including two more commissioned articles on weird corners of the text games universe.)
—Aaron